Vancouver Digital Billboard Location YVR-X17E
< Prev YVR-X91S YVR-X99S Next >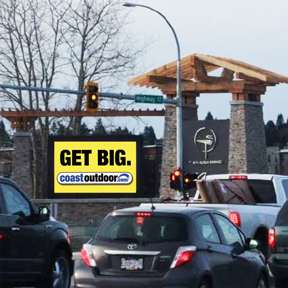 Location YVR-X17E is a digital, 10'x16' horizontal billboard in a east-facing location for westbound traffic passing through Surrey, Delta, Ladner and headed into Tsawwassen Ferry Terminal. It is located at the entrance to Tsawwassen Mills, the largest shopping centre in BC.
Ad displays per Day: 1,140 x 6 second hold 300px wide x 180px high, RGB .jpg.
YVR-X17E is located on Highway 17, 33 km south of Vancouver city centre on a major highway reaching Vancouver, Surrey, Delta, Ladner and Tsawwassen Mills and Tsawwassen Ferry terminal traffic.

View larger picture.
View this location on map.
Get Viewership, Pricing and Availability
View our Vancouver Digital billboard locations reaching viewers headed towards: