Types of Outdoor Advertising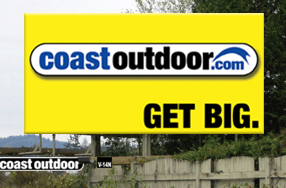 What is Outdoor Advertising?
Any advertising for your business or organization that is done outdoors can be considered outdoor advertising. Poster billboards, electronic billboards, digital billboards, bulletins, wall murals, mobile billboards, street level advertising, transit advertising on buses or taxis, transit shelters, bus benches, mall and place based advertising are all types of outdoor advertising. Each form of outdoor media has its strengths and weaknesses.
Will we get the best bang for our buck with outdoor media?
The most common metric that advertisers use to compare the relative cost of outdoor advertising media is CPM or cost per thousand impressions or billboard views. For every horizontal poster or bulletin billboard campaign, you'll get the cost per thousand impressions CPM for the campaign.
How does outdoor stack up versus traditional print media?
We've compiled some comparative data that shows the CPM or cost per thousand ad impressions for some of the larger traditional print media advertising suppliers on Vancouver Island so you can compare the numbers for yourself. We think you'll find that outdoor advertising might be a great fit for your marketing mix.