Billboard Advertising on Vancouver Island
Coast Outdoor Advertising offers design, production and installation services as well as billboard locations to serve the Vancouver Island communities of Chemainus, Cobble Hill, Courtenay, Departure Bay, Duncan, Ladysmith, Lantzville, Mill Bay, Nanaimo, Parksville, Qualicum Beach, Sidney and Victoria, British Columbia.
Billboard Recycling Program Reduces Waste
Our longstanding vinyl billboard recycling program means that old billboard vinyls are recycled to a small organic farming operation on Thetis Island and to other local re-users.
Digital Billboards Keep the Creative Fresh
Coast Outdoor's mighty, eye-catching digital billboards in Ladysmith reaching Vancouver Island viewers headed towards Nanaimo allow advertisers both big and small to keep their messaging fresh! It's easy and low cost to change out digital creative to display timely messages and run special promotions.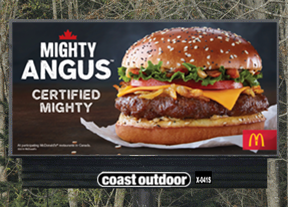 Pricing and Availability
Sign up for a Coast Outdoor account to download our media kit, plan and price an advertising campaign and get current availabilities.
Get Pricing and Availabilities
Vancouver Island Out-of-Home (OOH) Specialists
Coast Outdoor has over 40 years experience in out-of-home advertising on Vancouver Island. Our senior account executive Jenny Dean is launching new campaigns offering great price incentives to new advertisers and agencies across Canada and Vancouver Island. 250-388-3733 Talk with Jenny about how you can "Get Big" with Coast Outdoor.
Billboard Success Story
"The billboard we put up with Coast Outdoor created invaluable credibility for our organization and public awareness campaign. It was clearly helpful in ensuring we came to the attention of the right decision makers and was a pivotal component of our success." - James Legh, President, Pro-Amalgamation Party Association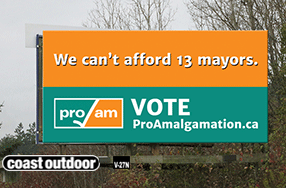 Pay Your Invoice by Credit Card
Save the stamp and take advantage of the miles... Pay your Coast Outdoor invoice by credit card.