Billboard Advertising on Vancouver Island
Coast Outdoor Advertising offers design, production and installation services as well as billboard locations to serve the Vancouver Island communities of Chemainus, Cobble Hill, Courtenay, Departure Bay, Duncan, Ladysmith, Lantzville, Mill Bay, Nanaimo, Parksville, Qualicum Beach, Sidney and Victoria, British Columbia.
Digital Billboards
We now offer digital billboards in Ladysmith reaching Vancouver Island viewers headed towards Nanaimo.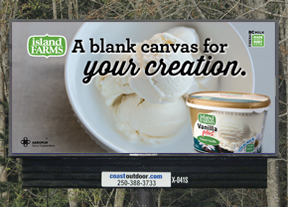 Pricing and Availability
Sign up for a Coast Outdoor account to download our media kit, plan and price an advertising campaign and get current availabilities.
Get Pricing and Availabilities
Pay Your Invoice by Credit Card
Now you can pay your Coast Outdoor invoice online.
Our Office Has Moved
We've moved our office. Everything except our new mailing address stays the same.
Coast Outdoor in the Community
We sponsor The Mustard Seed with billboard space in Victoria.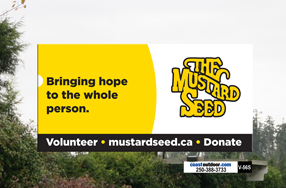 Who's that in the corner? It's Derwin Blanshard, talk show host and popular celebrity spokesmodel.