Wilsons Charter Fleet Coach Top Bus Ad BA-4556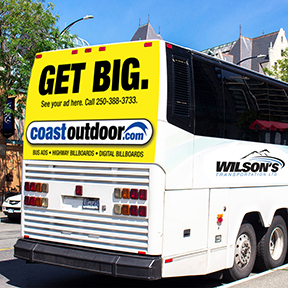 Wilsons Charter Fleet Bus Coach Top Bus Ad BA-4556 is a rear, bus coach-top advertising panel reaching viewers on Vancouver Island.
This bus ad passenger coach is a 1999 Prevost H3-45. The Vancouver Island Charter Line bus coach fleet consists of 4 full-sized bus coaches.

View larger picture.

Get Viewership, Pricing and Availability
View our Wilsons Charter Fleet bus ad locations reaching highway, street and pedestrian viewers on Vancouver Island and across British Columbia.